If you have lived in Roxboro or any surrounding counties, you at some point in your life have probably eaten some Brunswick Stew. And people are down right serious about how it is done. If you are from up North (ya'll do it different I hear), or just moved here, I am so sorry. You just may not understand.

Churches around here are famous for stews and the absolute best in the county is hands down, Mt. Zion!!!!! Seriously, it is perfectly proportioned for all ingredients and it just makes my mouth water thinking about it. Whenever, we get stew from Mt. Zion UMC in Hurdle Mills, I won't eat anything that day until we go pick it up. I like to work myself up for it. BUT, I missed the boat last time they made one and I forgot to go pick it up. BIG MISTAKE!
Even though Mt. Zion UMC is my favorite, it is also perfectly acceptable to consume some Austin family stew. Just another perk to marrying my hubby (most of them can cook!)

Having "a stew" or "doing a stew" or "cooking a stew" can be tradition in some families or simply a good time of friends and fellowship. Once the word gets out, you will have some visitors when it's ready to eat!

So, right now the Austin houses are plum out of this famous winter staple. So, what better weekend than to cook a stew? It was cold, wet, and down-right STEWpendous weather for breaking out the stew pot.
I consider myself a connoisseur of such stew concoctions and I am here to tell about it. I LOVE sugar in mine...and salt and extra black pepper. Pair it up with a grilled cheese or saltine crackers and you have got one banging good meal. It's perfect to pull out for last-minute company and even better for cold, rainy days! This weekend was super-fun-filled with plenty of In-laws, hearty ingredients, and kissing on babies. What could be better than family togetherness time and a bowl of hot steamy stew???? Not much.
Here is my photographic journal of how it went down: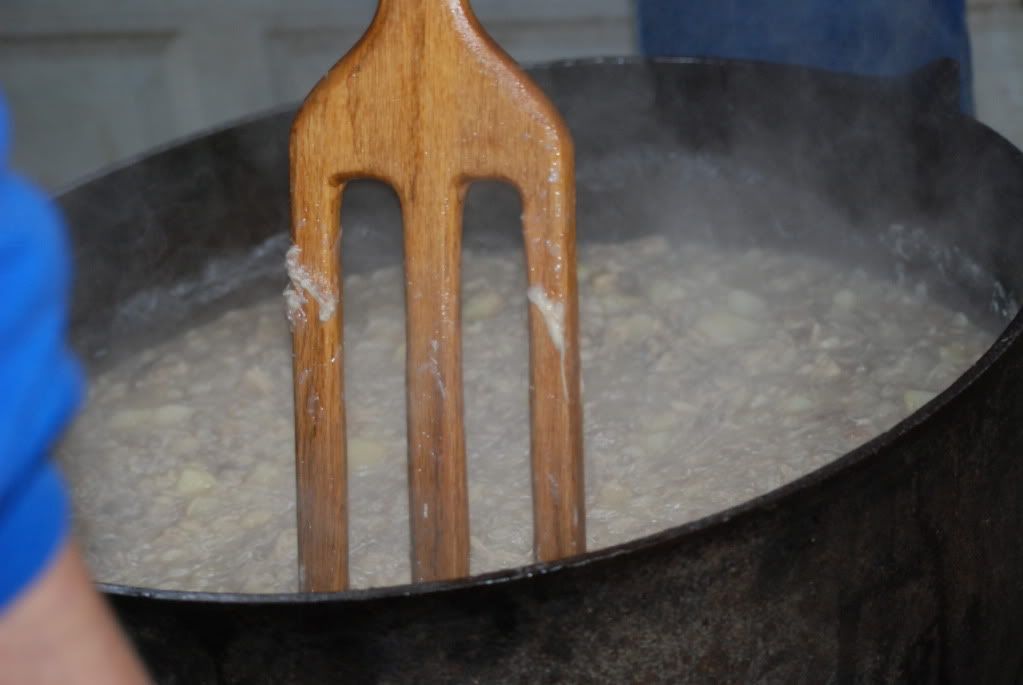 The In-Laws - makin' the magic happen!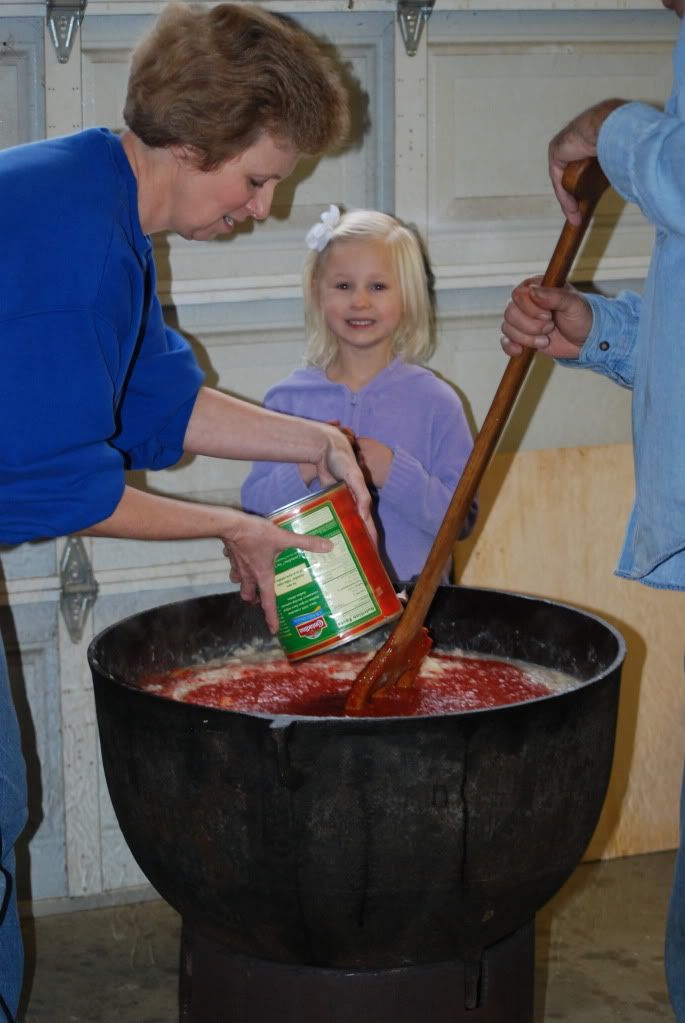 GA - overseeing the operations
The stew pot: This pot actually belonged to Sean's great grandfather who purchased the stew pot for 50 cent off a train wrecked railroad car. It had a 6 inch crack in it due to the train wreck in which his grandfather repaired. Now, we cook a stew in it every year!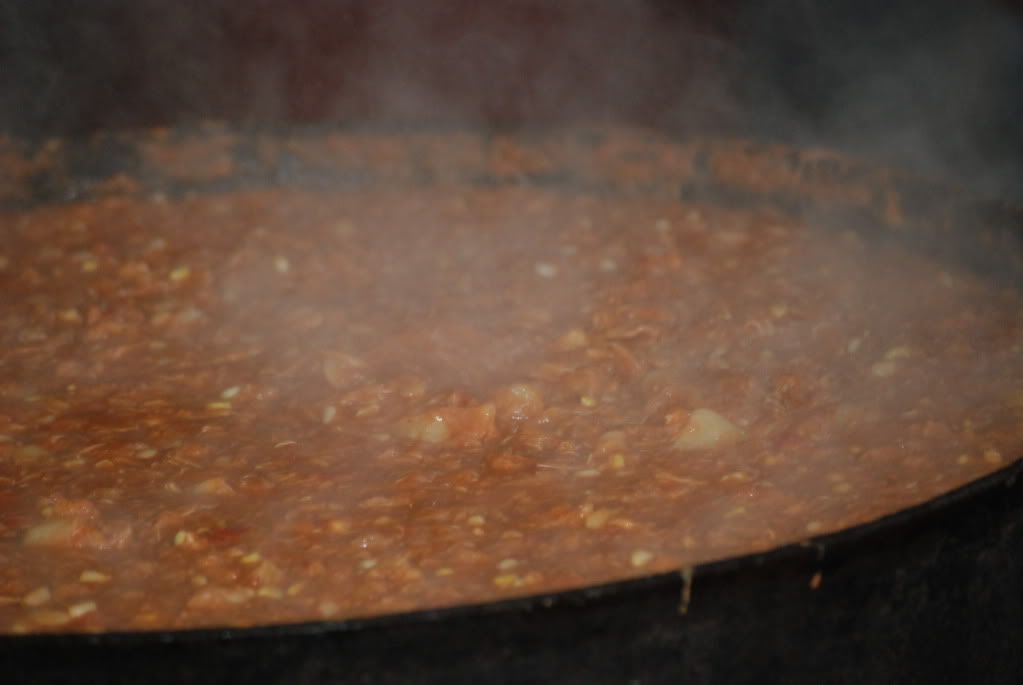 My daddy even came over to help stir.
GA did it the best! Such a good helper!








Here are a couple other photos from the weekend that I love!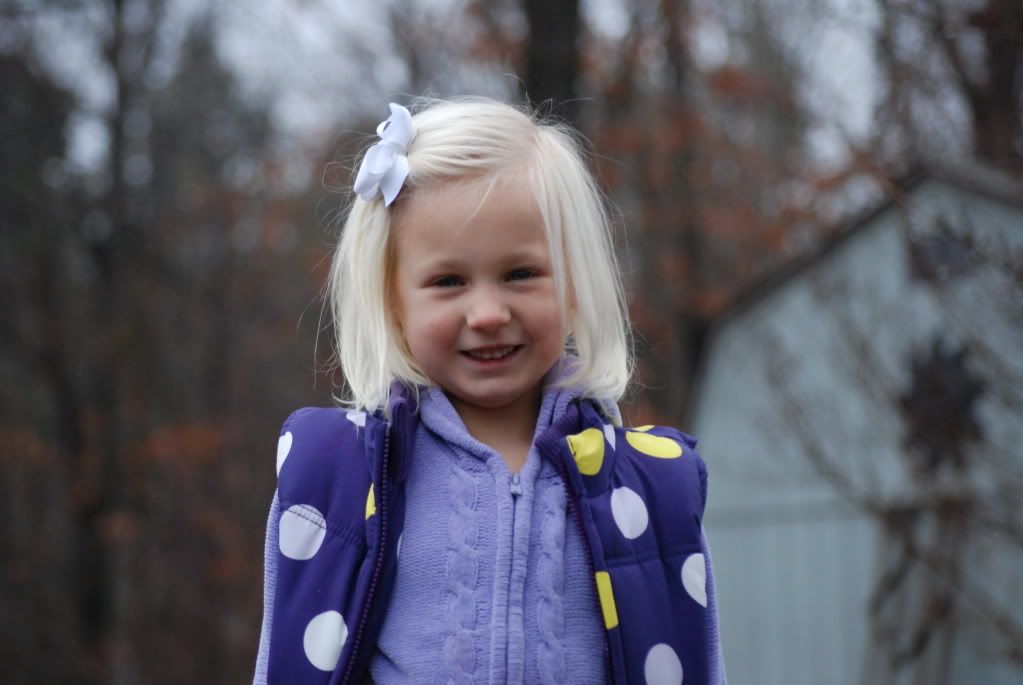 I can't believe my girl is getting so big and absolutely beautiful!
If you want to make a stew, here is my favorite recipe! (differs slightly from the one we just cooked) -
What you need:
#40 size pot (approx. 30 gallons)
8 lb. choice stew beef (cook in lots of water and save the broth)
3 Large hens (save broth, debone, & throw away skins)
10 lbs. potatoes diced
1 gallon white corn (straight from the garden is best!)
9 lbs. onions, diced
1 gal. frozen or canned green lima beans
4 lb. dried baby lima beans (soaked and cooked)
6 gal. tomatoes (we used crushed and 1 can paste)
6 lb. margarine
3 lb. sugar
black pepper and salt, to taste
4 red pepper pods
- Begin with frozen lima beans and potatoes in chicken and beef broth. Cook in black pot until done. Add chopped onions. Cook a few minutes, stirring. Next, add margarine and other ingredients, stirring constantly. After adding corn and dried beans, it will stick easily. If necessary, add additional water at beginning along with broth. Season with sugar, salt, and pepper. 3 hours total cooking.

Get ready for lots of work and some good family togetherness!